Well-Being Guidelines During a Crisis
July 20, 2021
By Duke Integrative Medicine Psychotherapy Team
We can easily let go of our healthy routines and boundaries when dealing with crises. During a crisis, we may let go of important practices that cultivate the four pillars of a stable mood: nutrition, connection, movement, and rest. During highly stressful times, it's important to do what we can to maintain and bolster these four pillars. Here are some ideas and guidelines to keep these pillars strong during a crisis.
Nutrition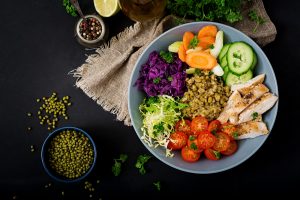 Continue to eat well-balanced meals and snacks at consistent times each day.
Try to have each meal and snack contain several colors of the rainbow.
Sometimes our appetite changes when we are distressed, or we may not have time to eat normally.
Try to withhold judgment if you notice you are eating more or less than usual.
It can be helpful to keep a supply of nutritious snacks with you at all times so you can meet your hunger cues the best you can whenever they arise.
Movement
Try your best to move for pleasure some each day.
Make a point to roll your joints and stretch regularly. It's ok if you only have a moment to do this.
Gentle movement helps the body digest tough emotions.
Take advantage of the free exercise resources available right now through Duke and the community. Many fitness studios are offering free classes for health workers at this time.
Go for a walk each day, even if only for 5 minutes. Try to notice something beautiful on your stroll.
Connection
Connect daily with someone or something you love. This could be a person, pet, or nature. Hug a tree. Play with a pet. Video chat old and new friends.
Get creative! Do what makes you feel connected to your best self, such as reading, art, dancing, or listening to music.
Make a point to learn about community support action happening in your neighborhood or city. Anything that reminds you you are not alone.
Sleep & Rest
Limit the amount of screen time and news you take in each day!
Turn off all backlit screens, social media, and news sources at least one hour before bedtime. Instead, read a book, listen to music, have some calming tea, or take a bath before bed.
You May Also Like
Elevate Your Mind-Body Connection with Guided Imagery
Eating for Mental Health: How What We Eat Can Affect our Mood
There are many reasons to start psychotherapy. You may seek support to heal from recent or past traumas, cope with chronic pain or illness, navigate emotional distress, or address conflict in your relationships. You may need help to address eating disorders, body shame, or burnout, or you may need support during life transitions. We give you the tools and confidence you need to regulate your emotions and connect with others so you can live your life to the fullest.