Chair Stretch Routine
July 13, 2021
By Duke Lifestyle & Weight Management Center Team
Sitting for long periods of time might create stiffness in our hips, neck, and wrists. Check out our "Chair Stretching" routine for some effective exercises while at your desk. Hold each stretch for 15-30 seconds.
#1 Upper Trapezius (Neck)
Sit tall, and slowly tilt your left ear to your left shoulder. To increase the stretch, take your right hand and press toward the floor. Repeat on the right side.
#2 Hip Flexors (Front /Top part of the Thigh)
Move to the left side of your chair, so your buttocks are on the left edge. Your knee and ankle should be aligned on your left side. Hold onto the chair with your left hand. Place your right leg behind so that you have some extension at your knee. Lift your heel slightly and pull your pelvis forward. Repeat on the right side.
#3 Chest/Shoulder/Bicep Stretch
Scoot to the front of the chair, grab the back and open up the chest. Can clasp hands for a deeper stretch.
#4 Mid/Upper Back
Clasp fingers together, turn palms out. Keep arms at shoulder height, and round out the mid-upper back.
#5 Hamstring (Back part of Upper Legs)
Sit on the front edge of the chair. Extend your right leg out fully with your toe pointed towards the sky. Hinge forward from the hips. Your hands resting on your hips.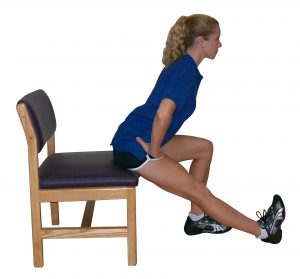 #6 Shoulder/Triceps
Reach right arm across the chest. Take the left arm under the right and "hug" the right arm feeling a slight pull/mild discomfort in the back part of the shoulder, side of the shoulder, and back part of the upper arm.
#7 Gluteus (Buttocks)
At the front edge of your chair, sit up straight. Place your right foot on your left knee and hinge forward from the hips.
#8 Low Back
Sit on the front edge of your chair with a wider than shoulder-width stance and reach down for your toes.
#9 Calf
Approach the back of your chair to use for balance, take the left foot forward, right foot behind, keep left knee bent with knee/ankle alignment, and both feet flat and torso facing forward. Press towards the floor through your right heel.
Physical activity and fitness are integral to mind and body well-being. Physical activity supports your health in maintaining weight and blood pressure, reducing lipids, releasing stress, and improving mood and focus. Developing a sustainable, appealing plan that meets your needs and keeps you strong, flexible, balanced, and happy is ideal. There are many ways to enjoy physical activity and fitness, such as: participating in group exercise classes, using the fitness center, swimming in the pool, walking on the outdoor track, or working one-on-one with an exercise physiologist to help optimize your health and well-being.
Exercise and Fitness at the Health and Fitness Center →
Fitness Assessments at the Health and Fitness Center →
Bod Pod at the Duke Lifestyle & Weight Management Center →